Kinepod-100 Dry Syrup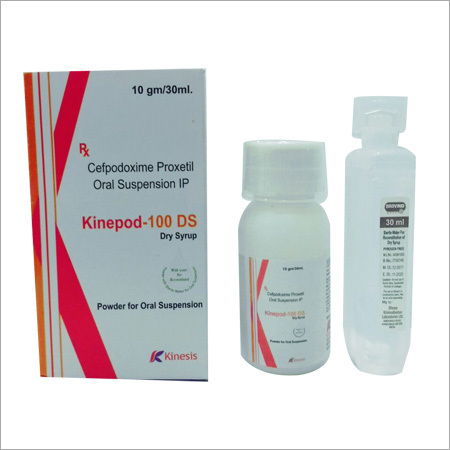 Product Details:
Formulations Form

Syrup

Dosage Guidelines

As Per Instructions

Storage Instructions

Dry Place
Product Specifications
Dry Place

Syrup

As Per Instructions
Trade Information
Telegraphic Transfer (T/T), Cheque

1 Week

Yes

All India
Product Description
What is Cefpodoxime for:
It is used to treat bacterial infections.
How does Cefpodoxime work:
It works to harm the bacteria and fight the infection.
How should Cefpodoxime be used:
Take Cefpodoxime exactly as directed by your doctor. Do not take more or less than instructed by your doctor. Take Cefpodoxime at regular intervals as instructed. Do not skip any doses. Continue to take it even when you feel better. You must complete the entire course of antibiotic. If you dont, the infection will not clear completely.Take Cefpodoxime with food to improve the absorption. If you have been given tablets, swallow them whole. If you have been given an oral suspension, shake the bottle well before you take it to ensure that the liquid is evenly mixed. Use the measuring spoon or cup provided to measure your dose.
Common side effects of Cefpodoxime :
Upset stomach or throwing up. Many small meals, good mouth care, sucking hard, sugar-free candy, or chewing sugar-free gum may help. Loose stools (diarrhea). Yogurt or probiotics may help. You may get these products at health food stores or in some pharmacies. - For women, vaginal yeast infection. Report itching or discharge.
What do I do if I miss a dose
Take a missed dose as soon as you think about it. - If it is close to the time for your next dose, skip the missed dose and go back to your normal time. - Do not take 2 doses at the same time or extra doses. - Do not change the dose or stop this drug. - Talk with the doctor.
What precautions should I take when taking Cefpodoxime :
Alert your doctor if you have a history of allergic reactions (rash, breathlessness, swollen mouth or eyes) to similar antibiotics such as cefalexin, cefuroxime, cefixime, ceftibuten or any other cephalosporin antibiotics. - Alert your doctor if you are allergic to penicillin antibiotics, for example, amoxicillin, ampicillin and cloxacillin. Penicillins are related to cephalosporins and if you are allergic to one, you may be allergic to the other too.
When do I need to seek medical help
If you think there was an overdose, call your local poison control center or ER right away.- Signs of a very bad reaction to the drug. These include wheezing; chest tightness; fever; itching; bad cough; blue or gray skin color; seizures; or swelling of face, lips, tongue, or throat.Very upset stomach or throwing up. - Very loose stools (diarrhea), even after drug is stopped. - Any bruising or bleeding. - Any rash. - Side effect or health problem is not better or you are feeling worse.
Can I take Cefpodoxime with other medicines:
Cefpodoxime should not be taken with antacids and other gastric medicines such as cimetidine, ranitidine and famotidine. This is because these medicines could reduce the effectiveness of Cefpodoxime. If you must take antacids or gastric medicines, take between meals at least 2 hours before or after you have taken Cefpodoxime. - Alert your doctor if you are taking probenecid. - Always inform your doctor and pharmacist if you are taking any other medicines, including herbal medicines and medicines that you buy without a prescription.
Are there any food restrictions
Avoid Alcohol
How do I store Cefpodoxime :
Store in a cool, dry place away from the reach of children. - Refrigerate the oral suspension (between 2-8C) once you have mixed the powder with water. Do not freeze it otherwise it will become less effective. Throw away any unused portion after 14 days. - Medicines must not be used past the expiry date.
Pregnancy Category
Category C: Either studies in animals have revealed adverse effects on the foetus (teratogenic or embryocidal or other) and there are no controlled studies in women or studies in women and animals are not available. Drugs should be given only if the potential benefit justifies the potential risk to the foetus.
Therapeutic Classification
Cephalosporins
Enter Buying Requirement Details
Other Products in 'Pharmaceutical Paediatrics' category