Kintel (Albendazole Tablet)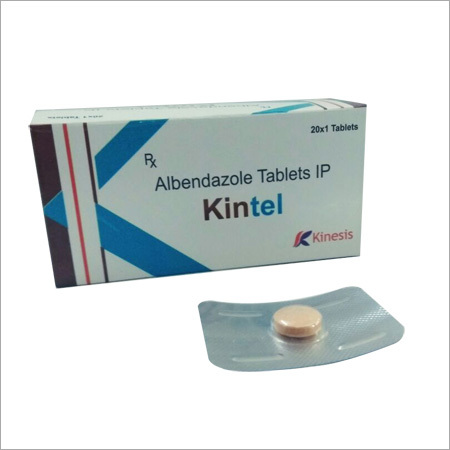 Product Details:
Formulations Type

General Drugs

Formulations Form

Tablets

Dosage Guidelines

As Per Instructions

Storage Instructions

Dry Place
Product Specifications
General Drugs

Dry Place

As Per Instructions

Tablets
Trade Information
Telegraphic Transfer (T/T), Cheque

1 Week

Yes

Within a certain price range free samples are available

All India
Product Description
What is Albendazole for:
It is used to treat infections caused by worms.
How does Albendazole work:
Albendazole works to harm the worms and fight the infection.
How should Albendazole be used:
Take this exactly as directed by your doctor. Do not take more or less than instructed by your doctor. Take Albendazole at regular intervals as instructed. Do not skip any doses. Continue to take it even when you feel better. You must complete the entire course unless otherwise directed. If you do not complete the course, the infection may not clear completely. Depending on the type of infection, you may need to take Albendazole for any length of time, ranging from 1 day to 1 month. Follow your doctors instructions. Take Albendazole together with or immediately after a full meal.
Common side effects of Albendazole :
Stomach pain, nausea, vomiting, headache, dizziness, reversible hair loss.
What do I do if I miss a dose
Take a missed dose as soon as you think about it. If it is close to the time for your next dose, skip the missed dose and go back to your normal time. - Do not take 2 doses at the same time or extra doses.
What precautions should I take when taking Albendazole :
Alert your doctor if you are pregnant. Do not take Albendazole if you are pregnant. - It is important that you do not get pregnant while being treated with Albendazole. - You may wish to discuss birth control methods with your doctor or pharmacist, especially if you are taking Albendazole for a longer period, such as for a month. - Avoid pregnancy for at least 1 month after you stop taking Albendazole. - Alert your doctor if you are breastfeeding.
When do I need to seek medical help
Seek help if you think there was an overdose or signs of a very bad reaction to the drug. These include wheezing, chest tightness, fever, itching, bad cough, blue or gray skin color, seizures, or swelling of face, lips, tongue, or throat. - Signs of infection. These include a fever of 100.5C) or higher, chills, very bad sore throat, ear or sinus pain, cough, more sputum or change in color of sputum, pain with passing urine, mouth sores, wound that will not heal, or anal itching or pain. - Feeling very tired or weak. - Very bad belly pain. - Very bad headache. - Very upset stomach or throwing up. - Any bruising or bleeding. - Dark urine or yellow skin or eyes. - Not able to eat. - Any rash. - Side effect or health problem is not better or you are feeling worse.
Can I take Albendazole with other medicines:
Let your doctor know if you are taking a gastric medicine called cimetidine. - Always inform your doctor and pharmacist if you are taking any other medicines, including herbal tonics, supplements and medicines that you buy without a prescription.
Are there any food restrictions
Avoid Alcohol
How do I store Albendazole :
Store in a cool, dry place away from the reach of children. - Medicines must not be used past the expiry date.
Pregnancy Category
Category D : There is positive evidence of human fetal risk based on adverse reaction data from investigational or marketing experience or studies in humans, but potential benefits may warrant use of the drug in pregnant women despite potential risks.
Therapeutic Classification
Antihelmintics
Enter Buying Requirement Details
Other Products in 'Pharmaceutical Tablets and capsules' category